Subscribe and never miss a draw
What is a lottery subscription?
When you subscribe to a lottery it means you opt to have your lucky numbers automatically re-entered into every draw. We make sure you have the chance to win sky-high jackpots week in week out with our simple and hassle-free subscription service.
How do I subscribe?
It's simple! Just follow the three steps below to subscribe and never miss a draw.
1
Select the lottery of your choice
2
Pick Your Lucky Numbers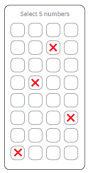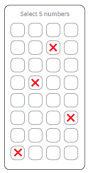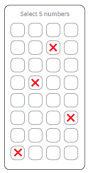 3
Select monthly or quarterly subscription you would like to bet on

Can I modify my subscription?
Yes, you can modify your subscription anytime you choose. Simply log in to your account, click on your subscription and edit your draw numbers. Please note that your current numbers have already been submitted for the next draw, so any changes will come into effect for the following draw.
How does it work?
We will automatically enter your betting slips into every subsequent draw of your selected lottery. All subscription purchases must be made with a credit or debit card.

As from 14th April 2020, in line with the Credit Card Ban in the United Kingdom, UK players will not be allowed to use credit card payments or e-wallet payments in which credit cards have been used to deposit money into the e-wallet. UK players will also not be allowed to subscribe to a lottery or renew their subscription with these types of payment methods.

You can modify the duration of your subscription at the time of purchase by selecting either the monthly or yearly subscription option. At the end of the period, your subscription will be automatically renewed using either your chosen payment method or your account balance.